February 2014 saw Auckland Begonia Circle hold a successful begonia festival and show in the Auckland Regional Botanic Gardens.
This coincided with the closing weekend of the Sculpture in the Gardens and attendance numbers were good.
The display of blooms drew the attention of all who entered the pavilion. (see photos below)
The 2015 Festival/Show was  held over the weekend of 21st and 22nd February 2015, at the Auckland Regional Botanic Gardens, Hill Road Manurewa. .
Auckland Begonia Circle Annual Show, 21st/22nd Feb 2015.

Exhibitor Classes
Open Classes
Class 1: One cut bloom Standard, B tuberhybrida.
Class 2: One cut bloom Picoteé or Bi colour, B tuberhybrida.
Class 3: Three cut blooms B tuberhybrida Standard or Picoteé.
Winning blooms;    Top:Westlawn Tango, Middle:Powder Puff, Bottom: Fiona Ramsey.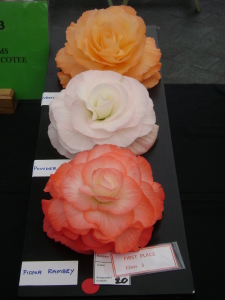 Class 9: One potted Gesneriad (i.e. Streptocarpus, African violet etc).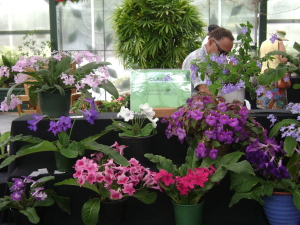 2017 Annual Show/Festival.
Annual Show/Festival was over the weekend 18th/19th February 2017 at Auckland Botanic Gardens, Hill Road, Manurewa.
The displays of begonia blooms and foliage was incredible. The public had a great chance to purchase some of these incredible plants and learn from experienced growers how to get the best from your plants. Demonstrations on how to take cuttings of leaf begonias drew a large crowd
The raffle, supported by Yates (NZ), was won by a visitor from Mt Wellington.
2018 Show and Festival.
Being held weekend 17th and 18th Feb 2018  which coincides with Sculpture in the Gardens, in the Auckland Botanic Gardens. There will be a range of plants, begonia  and non-begonia, for sale. No electronic transactions, CASH SALES only.
Venue has been changed to Logan Campbell Building and Edible Garden courtyard, look out for the direction signs from the main car-park.