2019 Festival
A BIG THANK YOU TO PUB CHARITY FOR MAKING OUR FESTIVAL POSSIBLE.
Held 16th and 17th Feb 2019  in the Auckland Botanic Gardens.  A very successful Festival, helped by the glorious weather.
Thanks  to Yates (NZ) for donating items for our raffle. There were four prizes all going to winners in the Auckland region.
Results and photos are below.
The competition results are as follows:
One Cut Bloom:
First: Julie Cornwall, Second: Julie Cornwall, Third: David Salter
Three Cut Blooms:
First: Julie Cornwall, Second: Mary Johnson, Third: David Salter
Novice – One Cut Bloom:
First: Noelene Murdoch, Second: Christine Miller, Third: Noelene Murdoch
One Flowering Pot:
First: Sid Miller, Second: Graeme Peake, Third: Graeme Peake
One Flowering Hanging Basket:
First: Sid Miller, Second: Sid Miller
One Potted Species:
First: Christine Miller, Second: Jenny Hunt
One Potted Gesneriad:
First: Peter Booth, Second: Peter Booth
TROPHY WINNERS:
Founders Trophy for Best Exhibit:  Sid Miller
Grawyn Trophy for Best Cut Bloom: Julie Cornwall
Daltons Trophy for Best Pot Plant: Sid Miller
Jose Smith Trophy for Best Species or non Begonia: Peter Booth
Club Trophy for People Choice: Ron Exelby
Congratulations to all our winners and thanks to all participants.
Below is a selection of photos from the Show.
PRIOR YEAR FESTIVALS:
2018 Festival
Held 17th and 18th Feb 2018  in the Auckland Botanic Gardens. A range of plants, begonia  and non-begonia, for sale.
Venue Changed to Logan Campbell Building and Edible Garden courtyard, look out for the direction signs from the main car-park.
2017 Annual Festival
Annual Festival was over the weekend 18th/19th February 2017 at Auckland Botanic Gardens, Hill Road, Manurewa.
The displays of begonia blooms and foliage was incredible. The public had a great chance to purchase some of these incredible plants and learn from experienced growers how to get the best from your plants. Demonstrations on how to take cuttings of leaf begonias drew a large crowd
The raffle, supported by Yates (NZ), was won by a visitor from Mt Wellington.
2014 Festival
February 2014 saw Auckland Begonia Circle hold a successful begonia festival in the Auckland Regional Botanic Gardens.
This coincided with the closing weekend of the Sculpture in the Gardens and attendance numbers were good.
The display of blooms drew the attention of all who entered the pavilion. (see photos below)
The 2015 Festival was  held over the weekend of 21st and 22nd February 2015, at the Auckland Regional Botanic Gardens, Hill Road Manurewa. .
Auckland Begonia Circle Annual Festival, 21st/22nd Feb 2015.

Exhibitor Classes
Open Classes
Class 1: One cut bloom Standard, B tuberhybrida.
Class 2: One cut bloom Picoteé or Bi colour, B tuberhybrida.
Class 3: Three cut blooms B tuberhybrida Standard or Picoteé.
Winning blooms;    Top:Westlawn Tango, Middle:Powder Puff, Bottom: Fiona Ramsey.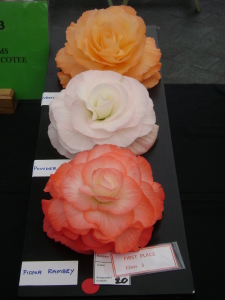 Class 9: One potted Gesneriad (i.e. Streptocarpus, African violet etc).